Regional
USA & Canada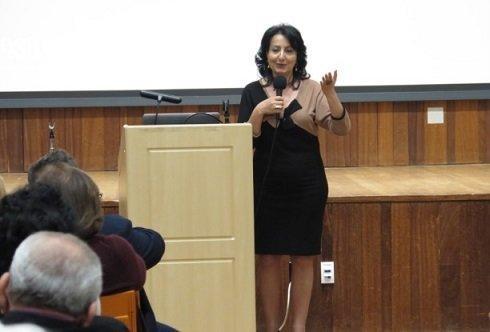 On November 16, at the Glendale (Calif.) Central Library, Lusine Sahakyan's documentary, Hamshen at the Crossroads of Past and Present, was shown. The showing was organized by Hamazkayin with the Asbarez daily.
In the 18th century, in the Rize province of the Ottoman Empire, in the districts of Çamlıhemşin, Ardashen, Hemşin, Pazar, Çayeli, and İkizdere, Armenians were forcibly Turkified. The documentary shows the life of this community over several generations.
Some continue to speak the local Armenian dialect. They live in Turkey's Artvin province, in the Hopa and Borçka districts. As a result of urbanization, it is possible to meet groups of Hemshinlis in Istanbul and other cities. Hemshinlis who continue to profess Christianity can be found on the Black Sea littoral.
The documentary shows the way of life, daily routines, songs, dances, storytelling, traditions, cuisine, games, and sayings of the Hemshinlis who converted to Islam. It also shows their sense of identity.
The Hemshinlis, living on the foothills of towering mountains, in the lush green of a gorgeous nature, use Armenian words in their Turkish dialect. These are Armenian words pronounced in a distinctive way. Though they have lost their identity as Armenians, they take pride in their identity as Hemshinlis. This is a heartache for many viewers, and they appreciated the connection that the filmmaker had created between them and the Hemshinlis.
The documentary is rich with dialog, conversations, a feeling of closeness between the viewer and the subject. Lusine Sahakyan also expertly gathered on film the Armenian artifacts that remain in the Hemshinlis' environoment: place names, prayers, sayings, stories, and the like.