Middle East
Regional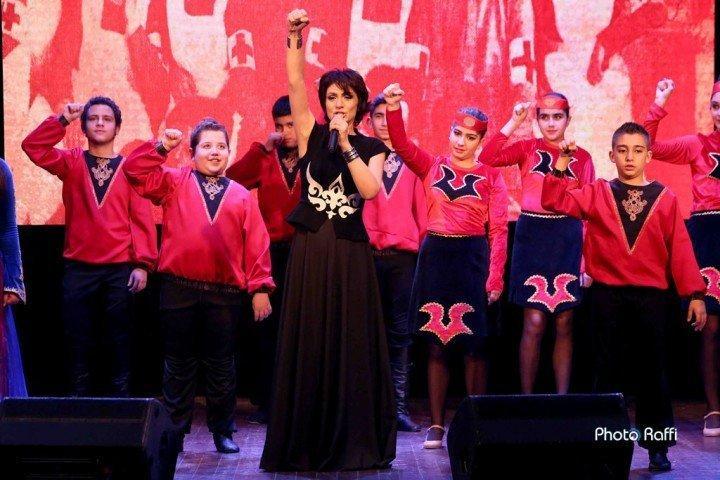 "Aztag" .- The event organized by the Regional Executive Board of Hamazkayin Lebanon took place on Friday, January 8, 2016 at 8: 00 pm at "Der Melkonian" Theater Hall where a large crowd had gathered to listen to the popular native singer Nune Yesayan. The singer visited Lebanon after 10 years of interval to give a performance in the frame of the concert series headlined "We exist, we will exist and increase" dedicated to the Centennial of the Armenian Genocide.
The program included the history of the last centuries, starting from Sayat Nova, Gomidas, the Armenian Genocide, Armenian people's rise, the Karabakh war and to our days. The singer consecutively presented the songs "Hov Arek" "Lorig", "Hoy Nazan," "Khngi Dzar" by Gomidas. Then she performed the songs "Tamam Ashkharh", "Kamancha", "Proyi", and "Inch Konim Hekimn" by Sayat Nova and a bunch of folk and patriotic songs, such as "The Mourning of Adana", "Wake up, Lao", "Tele Yaman", "Agulistsi Kaj Padani", "Gndak Vorodats", "Ardyok Ovker en", "Maratuk", "Vay Nareh", "Cilicia", "and Mardigi Yerg". At the end, the singer performed Gusan Haykazun's "Hpart Gnatsek", Stepan Lusikian's "Free Armenia", Mane Hagopian's "Hay", Vache Aveeyan's "We are Armenians", and the song "Thanks God for we exist and will exist and increase".  The last song performed was the anthem ″Our Homeland″. The lyrics of the songs and relevant images were displayed on the screen.
The Hamazkayin"Gayane" Dance Ensemble also took part in the concert and accompanied Nune Yesayan during the performances of some songs.  It is noteworthy that Nune Yesayan always involves in her performances the artistic troupes of the communities during her concert tours, which shows the unity of Armenia with the Diaspora, as she confirmed.