Armenia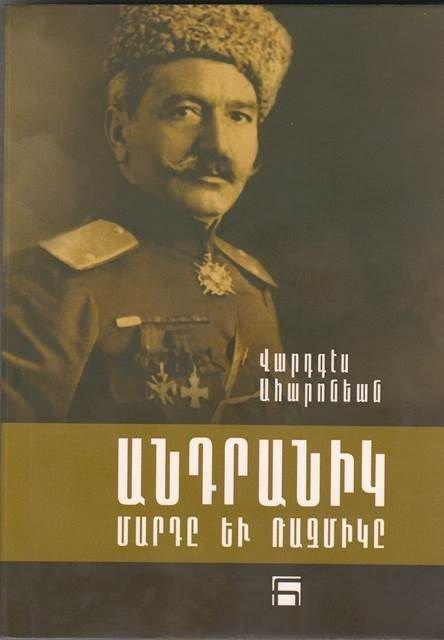 Hamazkayin has republished Vartkes Aharonian's newest work, Andranik: Marde yev Razmike (Andranik: The man and the warrior), Yerkir reports. The book was published originally in 1957 in Boston by the Hairenik Association. It is not familiar to the reading public in Armenia; nor is it well known to historians of the period in which General Andranik was a leading figure.
To understand the value of the book, it is first necessary to reflect briefly on the author's background. Vartkes Aharonian was the son of the a writer and statesman Avetis Aharonian. Trained as a lawyer, he was also a writer, expert in literature, and polemicist. His life was dedicated to national service. During the First World War, he volunteered as aide-de-camp and interpreter for General Andranik.
As a member of Avetis Aharonian's family, he had the opportunity to meet Andranik on many occasions, enjoy his presence in the family home, and come to know him well. Always at the general's side during the Volunteer Movement in the war, he came to have a deep understanding of the legendary figure both as a military figure and as a complex man with sometimes contradictory personality traits. Thus, the memoir presented to the reader is a first-person account about a historic figure and a historical era and serves as a primary source.
The author was observant and was able to tell a good story. His account is very readable and moving.
The reader will enjoy coming to know the real Andranik up close and will appreciate learning about a figure whose party affiliation made him less well known than he deserved in the Soviet era.
The author dedicated the book to the memory of his mother, Anush Aharonian, in these moving words: "To the shining, shining memory of my mother, Anush Nazari Aharonian, who rests on the skirts of Mount Ararat."