Middle East
Regional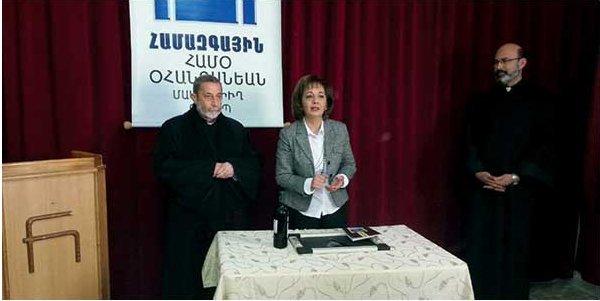 After a long break in cultural life, Hamo-Ohanjanian Chapter of Hamazkayin Armenian Educational and Cultural Association initiated a cultural and literary evening dedicated to the 45th anniversary of Paruyr Sevak's death, as well as the presentation of Sevan Asatoorian-Manjikian's book Kessab -2014, Deportation and Return.
The event took place at the Sahagian Hall in Kessab, a historic and cozy place where the spiritual pastors of the village had gathered. Der Narek Zerentzian and Der Narek Rev. Louisian, representatives of Kessab's cultural, sports and benevolent associations, and about 50 peasant of Kessab where present at the event.
Organizing committee member Maral Karchikian delivered the opening speech of the event in the name of the committee. After her welcoming speech, she presented the key speaker of the day and the biography of the author.