Europe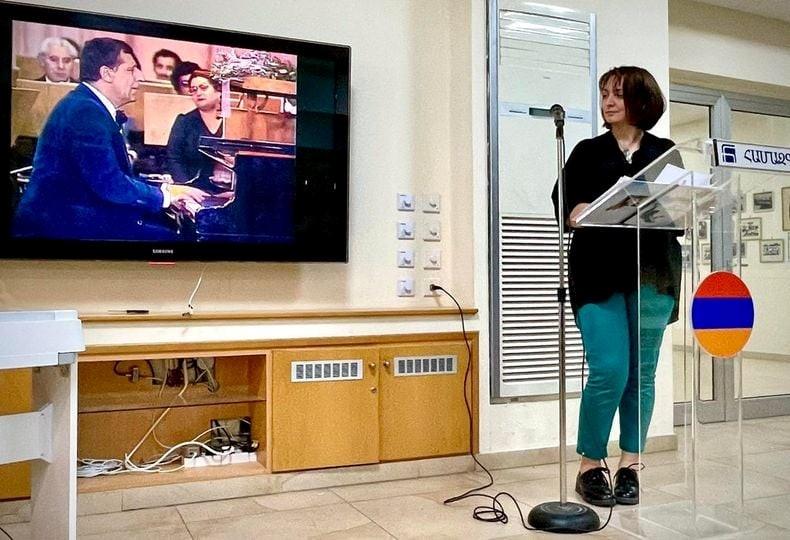 On April 8, 2022, the Hamazkayin Nicosia Chapter held its regular Cultural Evening. This event was dedicated to the memory of the composer and pianist Arno Babajanyan. Among those present were Archbishop Khoren Doghramadjian, pontifical vicar for the Diocese of Cyprus, and Vartkes Mahdessian, member of parliament for Armenians in Cyprus.
In opening remarks, Chapter Executive Board chairperson Arto Tavitian celebrated the resumption of the Cultural Evenings after a long break because of the pandemic. He invited the director of the Holy Mother of God Church Choir, pianist Nara Sardarian, to present Babajanyan's life and work.
Ms. Sardarian spoke about the great composer's world-renowned works, his reputation, his unforgettable concerts, but also about private moments and social, student, and family life. The presentation was accompanied by slides.
The audience enjoyed live performances of Babajanyan's work by the teenaged Edgar Evoyan, accompanied by Ms. Zara Barkhurdarian on piano, and by the college student Garig Malkhasian, accompanied by Ms. Sardarian.
Everyone joined in singing Azg Parapantz as the conclusion of the program.
The event concluded with a reception during which the audience expressed their awe at the soloists and their accomplished teachers.