Middle East
Regional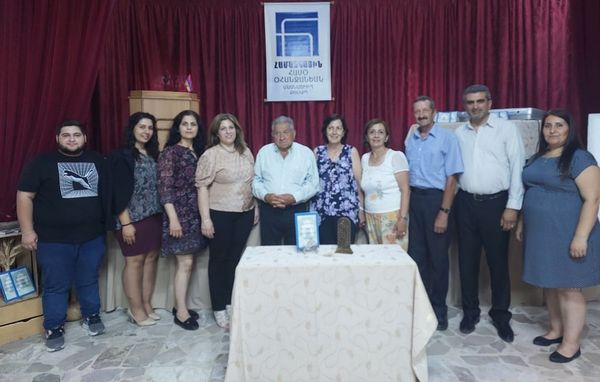 A book by Kessab-Armenian Troubadour Jirair Trtrian, Episodes and Songs from the Life of Kessab, was launched on July 9, 2023, at the Sahagian Hall in Kessab at the initiative of the local Hamazkayin Hamo Ohanchanian Chapter.
The spiritual leaders of the village's three denominations were present, as were members of the Hamazkayin Central and Regional Executive Boards, school trustees and teachers, representatives of organizations, and the general public.
The program began with the anthems of Syria and Armenia, followed by opening remarks by chapter chairperson Ara Keshishian.
Two sixth-grade students, Alik Lntian and Nareg Keshishian, recited "Shvor Sheri" in the Kessab dialect. Arpi Kortmosian was the accompanist.
Hovig Tanelian sang the well-known Kessab song "Huken Iris Mudur," after which fifth-graders Meghri Malatchaluan read the "Aram Ammin" story from the new book.
Chapter executive board member Alis Sulian Trtrian familiarized the audience with the author's biography.
Sosi Garjigian, on behalf of the Regional Executive Board for Syria, spoke about the book, with pleasant and memorable excerpts from the publication.
A group of culture-loving women rose to present three of the author's songs, as arranged by Kessab native Antranig Keosherian. The event was the premiere for "Br Tarnunk" and "Siv embvodz our." The third song was "Hen mir kieghe," a group song.
The troubadour of Kessab, Jirair, was then invited to speak from the heart. He was visibly moved and expressed his gratitude. Comrade Ara presented him with a gift to commemorate the occasion and celebrate Jirair's dedication and work.
The three spiritual leaders, the Central and Regional board members, and the chair of the chapter board were invited to join the author in pouring some wine on a copy of the book.
The spiritual leaders congratulated the author and closed with the "Bahbanich" prayer.
There was a reception.
The book is available from the chapter executive board.