Regional
USA & Canada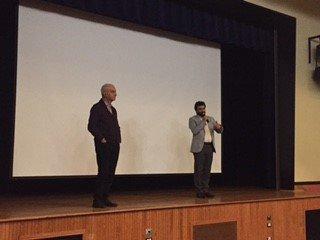 Native director Jivan Avedisian's film The Last Resident was screened on Tuesday, November 14, 2017. The event organized by the Hamazkayin Montreal's Sanahin Film Club, took place at the Bastramajian Theater Hall of St. Hagop College. Sanahin Film Club manager Vicken Tufenkjian presented the director and the film to the guests.
The audience watched the film with great interest and highly appreciated its message - peace to the world and humanity. At the end of the event, the audience had the opportunity to ask questions to the director. Let's note that the film won the Best Feature Film and Best Actor prizes of the Scandinavian Film Festival of this year.
The same day, Jivan Avedisian visited the graduate students of St. Hagop College, the Editorial Board of Horizon Weekly and the National Prelacy.