Regional
USA & Canada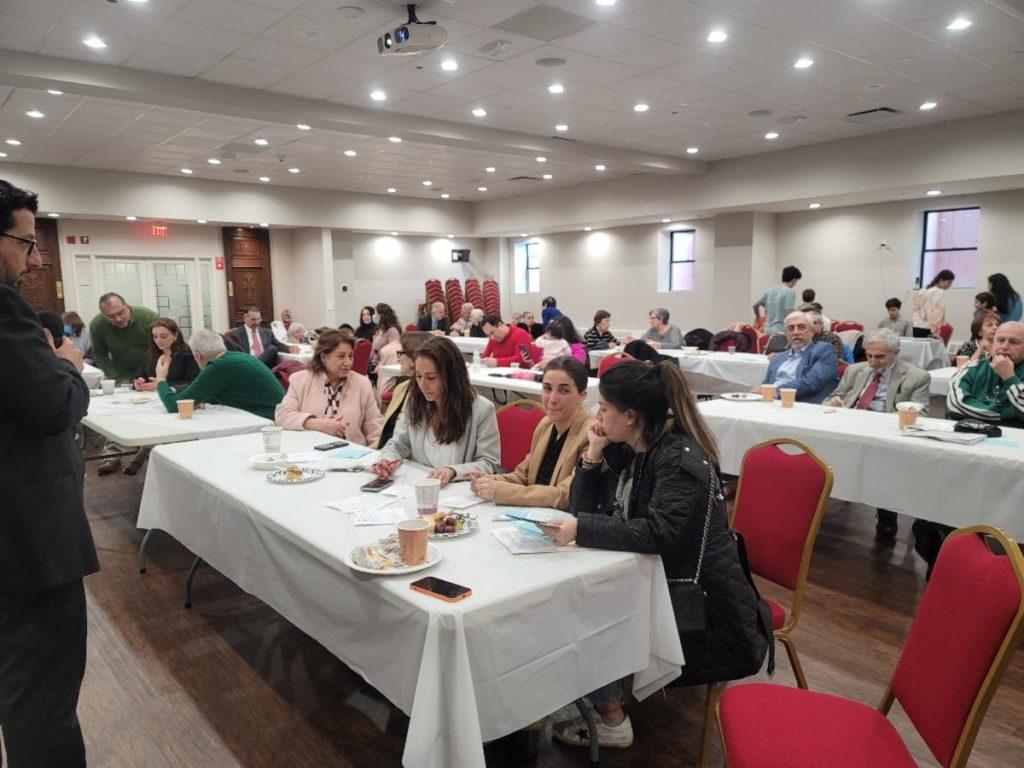 On Sunday, April 3rd a very informative and touching lecture about Hamazkayin's "Children of Artsakh Programs" was presented to all those who attended after church service. 
First Mrs. Nayda Voskerijian, an executive on the regional board of Hamazkayin, introduced Mrs. Lalig Vartanian to speak. She, as an executive board member of the Hamazkayin Armenian Educational & Cultural Society's NY chapter and fundraising committee, welcomed the group and mentioned this was their second fundraising event for this wonderful program. She gave us the programs three main objectives but wanted us to focus on remembering key phrases. These phrases are that we need the children of Artsakh to continue learning and growing, that teachers are important and we need to strengthen them as well and that learning the Armenian language and our history is very important for the children of Artsakh. 
Secondly, Mrs. Maria Ebrimian got up to represent the ARS Mayr Chapter. She spoke of all the hard work the Armenian Relief Society does to support humanitarian aid for all Armenians throughout the world. Currently, there are many programs that not only help the people of Artsakh but also those in Lebanon and Syria. 
Then, our keynote speaker, Mrs. Ani Tchaghlasian, got the microphone. She was in Artsakh this past December. She spoke of the hardships our brothers and sisters deal with every day. Having 70 % of Artsakh being occupied by Azeris means not only a loss of land but control of some very important resources. The pipelines that supply gas and water are now under Azeri control. Behaving as true Azeris would, they cut off the gas supply in the middle of winter and the water supply in the middle of summer so the people living in the villages of Artsakh suffer more than they already do. They continue to threaten people who live in border villages daily saying they are not safe living there. Artsakh used to be a food secure republic because so much of its land was used for growing grains and other food. Now with the loss of land, there will be a serious grain shortage which will also affect Armenia. Armenia gets most of its grain from Artsakh and Ukraine. With the war in Ukraine that will only the worsen the situation for years to come.
Next Mrs. Tchaghlasian spoke of the Children of Artsakh Programs that exists currently. There are classes for dance, chorus, crafts, art and Armenian language and literature. The last one mentioned is for 17 years old so they get help to prepare for their college entrance exams. Thankfully, with this program's help, for the past two years all the students successfully passed their exams. The program first started with art therapy. Its goal was to give refugee children an escape from the adult stresses they were surrounded by. It was a chance for them to release their grief and truthfully in the beginning their artwork was very ominous. Later as time passed, their artwork became more of what we expect children's artwork to look like. Currently there are about 300 children in this whole program and the age range is 8- to 14-year-old. Let it be known this is the only program for kids in the border villages. There are no after school programs or sports programs for them to attend. Mayors of other villages are begging Hamazkayin to come to their village to do the same good work for their children. Hamazkayin has also implemented a program to help train Armenian teachers in the diaspora. Hence this fundraiser. 
Our speaker met a sweet young boy who was taking one of these dance classes. She asked him if he likes to dance. He said, "No. I dance because the Turks have to know that we are not broken." Tears followed this comment.
Reverend Father Nareg Terterian thanked Mrs. Tchaghlasian for her presentation and asked those present if they would consider donating to this wonderful cause. He started off by saying St. Sarkis Church would donate $1000. Many stepped up and donated and by the end of the afternoon $10,000 was raised. If anyone would still like to donate to this cause, please make your checks payable to Hamazkayin Educational and Cultural Society and mail it or drop it off in the church office.
One last thing, we had the privilege of having Ms. Elizabeth Chouldjian from ANCA in the audience with us. She spoke of the importance of all of us calling and telling President Biden to stop sending military aid to Azerbaijan. Let them know of the ongoing aggression against Armenia and Artsakh. This should be a priority for all of us. 
We Thank The Generous Donations of the Following individuals & organizations
$1000.00
St. Sarkis Church
$500.00
Armen Garo Gomideh
ARS Erebouni Chapter
Mr. & Mrs. Karl & Alice Alajajian
Mr. George Avetyan
Mr. & Mrs. Antranig & Marion Boudakian
Mr. & Mrs. Garbis & Vicky Hagobian
Mr. & Mrs. Elie & Zabel Hatem
Mr. & Mrs. John & Salpie Megerian
Dr. & Mrs. Louis & Elenne Najarian
Mr. & Mrs. Razmik & Sonya Nenejian
Salt & Light Youth Group
Suzanne & Hovsep Hagopian Saturday School
Mrs. Nayda Voskerijian
$300.00
Ms. Tamar Harutunian
Mr. & Mrs. Nazareth & Taline Markarian
Mr. & Mrs. Harry & Juliette Milian
$250.00
Mr. & Mrs. Raffi & Jeannette Nenejian
Mr. Joseph & Ms. Laurie Terterian
Mr. & Mrs. Sevan & Victoria Yekhpairian
$200.00
Mr. & Mrs. Armen & Zepiur Ardzivian
Mrs. Agavni Bodriguian
Mr. & Mrs. George & Lena Felice
Mr. Mher Janian
Mrs. Evelyn Nenejian
$100.00
Mrs. Jilbert Balian
Ms. Hasmik Israelian
Mrs. Harriet Janesian
Mr. & Mrs. Varujan & Luiza Kalustian
Mrs. Chake Kelaghbian
Mr. Vartkes Mengouchian
Mr. & Mrs. Antranig and Azadouhi Vartanian