Europe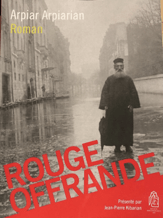 On November 7, 2022, at the Paris House of Armenian Culture, Hamazkayin held a book launch for Rouge Offrande, the French translation of Arpiar Arpiarian's novel, Garmir Zhamuts (Red offering).
The evening was dedicated to Arpiarian through the novel, which has been the focus of research by Jean-Pierre Kibarian.
Ara Krikorian spoke about Arpiarian's specific realist style, his work with various newspapers in Constantinople and Tiflis, and his personal vigor. He noted that Arpiarian had approached and joined the Hunchakian Party and was assassinated in Cairo in 1908.
The topic of the day was not the author, however. The topic was the protagonist of Rouge Offrande, Father Housig. Having recently settled in Constantinople from his distant Armenia, from his village Domuz, he sang loudly and performed rituals in Ortukiugh Church. This was something the local amira found unnecessary and even dangerous. Father Housig's singing tone was more of a call to rebellion than it was a prayer.
The novel Rouge Offrande in its entirety was Father Housig's testimony. The novel let us come to know Father Housig who was called, in disparagement, Gharib Derder, "Migrant Padre." But in parallel Kibarian's research introduced us to Vramchabouh Kibarian, who came to Paris in 1899 and became the first prelate of the Armenian cathedral in Paris.
What was the connection between the Migrant Padre of Rouge Offrande, arriving in Ortukiugh from faraway Domuz and occupying everyone's attention with his peasant appearance and faith in freedom and the founder of the Paris Armenian cathedral, Archbishop Vramchabouh Kibarian d'Artchouguentz?
Rouge Offrande is not simply a rendition of Garmir Zhamuts in French. The book contains a second part, written by Jean-Pierre Kibarian, that explains how this simple priest, having lost his wife, leaving some of his five children behind, had arrived in Paris and became the first archbishop of the Armenian community here. The parallel to the novel's protagonist does not end here. When Jean-Pierre Kibarian presented the Migrant Padre, he was presenting his grandfather. Drawing on the archbishop's letters and personal writings, he brought Father Housig to life and confirmed the archbishop's path. Through his work, the grandson has not only given life to the priest of the novel, but also showed the new but clear path life took for Armenians after the massacre.
It is interesting how the novel became life and life became a tale, a fairy tale life.
As an audience, we said good night with difficulty, as we felt part of the fairy tale.