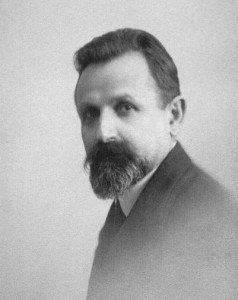 Avedis Aharonian (1866-1948)
Avedis Aharonian was born in 1866, near Igtir town, at the foot of Masis. After receiving preliminary education, he enrolled at Kevorkian Seminary. After having graduated the Seminary, he returned to his birthplace, and dedicated himself to teaching.
In 1898, he moved to Europe and followed university courses in Lausanne and Paris. There he joined ARF party. Five years later, he went to Tiflis, where he became the editor of "Murch" Magazine, and worked for the "Yaraj" and "Alik" newspapers. Then, he worked at Nersisyan School as a principal. In 1909, the Russian government arrested him as an organizational figure (″ARF Cause") and jailed for two years.
Being heavily sick and granted temporary release from jail, he moved to Europe across Istanbul. In 1917, he returned to the Caucasus and became the president of the Armenian National Council, which organized the Armenian resistance in the Caucasian Front. In 1918, when the Independent Republic of Armenia was founded, Aharonian was elected as President of the Parliament. Then, he went to Istanbul as the President of the delegation of the Republic of Armenia to negotiate with the Turkish government. In1920, he was the signatory of the Treaty of Sevres. After the fall of the Republic of Armenia, he settled in France, where he continued his national-political and cultural-literary activities. In 1934, in Marseille, he got a stroke on the stage when making a speech at an event dedicated to Hamazkayin and Djemaran. 14 years he remained sick and unable to speak and write. He died in 1948 and was buried in Pere-Lachaise Cemetery in Paris.
He wrote series of stories "Freedom Road", "Storm Saint", "Araz", "Ghegho's Field", " Wayfarer ", "Gatouchgue ", "Silence" (novel), "Tears Valley", "Golden Fairy Tale" (Play), " Christapor Mikaelian ", "My Book", "In Italy", etc.