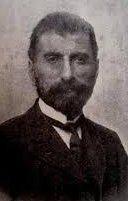 Tlgadintsi (Hovhannes Harutyounian) (1860 – 1915)
Hovhannes Harutyounian was born in the village of Tlgadin near Kharpert (Western Armenia). He got his education in National High School of Kharpert.
As soon as he completed his studies, he held the position of teacher and educator in the schools of the neighboring provinces. Then he returned to Kharpert and founded his own school, the National Central School.
During the Armenian language classes, Tlgadintsi inspired the students with love toward the rural literature and developed the literary inclinations of his students. At the same time, he dedicated himself to literary activities and established himself as a writer with the reports he sent to the Constantinople newspapers.
Tlgadintsi was martyred in 1915, at the shores of Lake Dzovk, near Kharpert.
Tlgadintsi's literary works describe the Armenian rural life and the people. He wrote chronicles, novels and short stories ("Dark Corners" or "Woman-fighting or Bullfighting?" "I Have Done My Part," "Just One Glass"). He has written also 5-6 poems in folk style and spirit as well as theatrical plays.