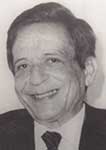 Melankton Arslanian (1913-1986)
Melankton Arslanian was born in Aintab, on June 3, 1913. He was the firstborn child of his parents – Armenag and Beatrice Arslanians.
His family was deported when he was a two-year old baby, and they got free from exile only when he was eight.  They finally settled in Aleppo where he attended the Primary School of Presbyterian College.  He received his secondary education at "Aleppo College" where he was one of the best students and was given  high appreciation and prizes. Unfortunately, he could not continue his educationbecause of financialdifficulties. He had to start workingat an early age  in National Sahagian College of Aleppoas an English teacher. The people surrounding him used to admire his dedication to teaching.
In this very period, he gathered around him the most earnest youngsters full of love and dedication to their nation andfounded "Areg" Association aimed at awakeningthe Armenian young generation's national spirit and the vision of national self-preservation.
His organizational capabilities, interest towards the national issues and his lectures given in the mentioned association attracted the attention of ARF, and the local committee decided to involve the majority of the young members of "Areg" into ARF.
Thus, Melankton Arslanian seeing the realization of his visionsjoinedARF as well as started to work for the "Azdak"daily newspaper.
In 1940, he founded a textile factory and successfully ran it during the World War period.In 1948, he abandoned this business and settled in Beirut.
In 1947, he married Violette Kyoshlanian from Aleppo, and threy had three children– Aram, Raffi and Milvi. The childreninheritedtheir father's love towards his nation.
In Beirut, Melankton,in partnership with his brother Haig, who lived in India, cooperated with Vahe Setian in banking and gold trade businesses. When his brother Haig moved to Africa to start a diamond wholesale business, Melankton had to relocatewith his family from Lebanon.  In 1951, they settled in the city of Antwerp in Belgium.
Melankton often visited Lebanon and was always interested in the national issues and the needs of the Armenian population there. He,together with his brother Haig, did not hesitate to provide financial assistance to all Armenian institutions, churches, cultural associations with no exception.
In 1986, Vazgen I, Catholicos of All Armenians awarded him the First Class Order of St. Gregory the Illuminator. Within the same year, he received "Prince of Cilicia" Award from Catholicos of Cilicia Garegin B.
Melankton Arslanian passed away in Antwerp, on 26 December 1986, after leading such a wholesome life dedicated to his people.