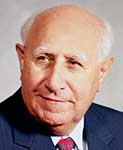 Arshak Catchatoor Galstaun (1912-2008)
Mr. Galstaun was born 16 February 1912 in Iran in the region of Charmahal's Livasan village. He was the eldest of six children, which included three brothers and two sisters.
Mr. Galstaun's life was fraught with upheaval. As an 8-year-old child, after living in Basra with his father for six months, he was sent to the Armenian College and Philanthropic Academy in Calcutta, India as a boarder.
At Djemaran, the man within Mr. Galstaun was born. He was a brilliant student and an active sportsman, and won medals in both education and sports.
Following his graduation from the Armenian College, Mr Galstaun began his studies at St. Xavier's University with a scholarship from the Armenian Church in India. He graduated with honors in literature. For some time he was a teacher. He was also secretary of the Armenian Sports Club.
In 1937 he sought his fortune in Singapore and worked in the Edgar Import Export Company. With the onset of World War II, Mr Galstaun joined the Volunteer Corps in Singapore. He suffered injuries during Japan's bombing of Singapore. With Singapore's fall to Japanese forces in 1942, Mr Galstaun was taken as a prisoner of war for three and a half years, until his release in 1945.
In 1945, he traveled by ship to England, and afterwards has returned to Singapore, where after working with several companies, he established his own company.
In 1957, Mr Galstaun established his own firm, expanding his business to include trade in Southeast Asia, Europe, and Oceania. That same year he married Mrs. Sophie in Calcutta. He succeeded in becoming one of the biggest merchants of crocodile skin products in the world. Mr Galstaun established a branch of his business in Sydney, and in 1982 decided to move permanently to Australia with his wife.
For his philanthropy and dedication to the Armenian nation, the Catholicos Karekin II of the House of Cilicia has honored Mr. Galstaun with the medals of Cilician Prince and Princess. Later, the Catholicos Karekin I of All Armenians honored him with the Letter of Catholicos.
Mr. Galstaun always considered his foremost duty to donate generously to his nation. It is due to his generous donations that today the Arshak and Sophie Galstaun Djemaran (Lyceum) of Hamazkayin in Sydney and the Australian-Armenian Association Centre exists.
When the need for an Armenian daily school was urgent in Australia, members of Hamazkayin approached Mr. Galstaun asking for his financial contribution to the school construction project. "The project immediately became very dear to my heart, because I am a graduate of Armenian school and I am very well aware of the role of the Armenian school in the preservation of the next Armenian generation," Mr. Galstaun said. Without hesitation, he donated $250,000 to this project. The project soon began. Committees were formed, communiqués were published to guarantee the community's support, licenses were granted by the Private Schools' Association and by the Municipality for the construction of the new school. Thus, the dream of thousands became a reality. Until the last days of his life, Mr. Galstaun was in direct contact with the school's directors, its board of trustees, and the Regional Committee of Hamazkayin, and when necessary took part in making decisions about matters related to the school.
Mr. Galstaun's total donations to the Arshak and Sophie Galstaun Djemaran of Hamazkayin exceeded $2 million. Whatever he did was with great love and conviction, because he deeply believed in the mission of preserving Armenian identity for future generations. For his generous donations to strengthening Armenian schooling, on March 20, 2003, the Central Committee of Hamazkayin decorated Mr. Galstaun with the Medal of Hamazkayin.
Arshag Catchatoor Galstaun passed away on August 9, 2008, in Sydney.