Europe
Regional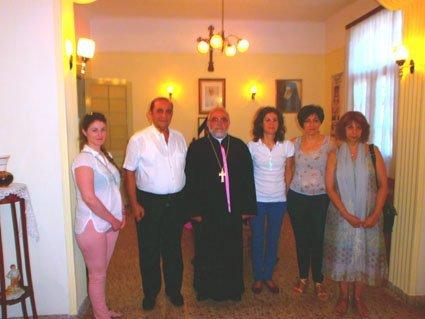 On Friday, 3 July 2015, the Regional Executive Board of Hamazkayin Greece visited the Apostolic Administrator of Armenian Catholics in Greece, Most Reverend Joseph Pezezian, at the Hall of the Armenian Catholic Diocese in Greece.
The meeting took place in warm atmosphere and lasted about one and a half hours.
The purpose of the visit was to make the acquaintance of the Most Reverend and to congratulate his new appointment in the Armenian Catholic Church. The visitors also expressed condolences in connection with the death of His Beatitude Nerses Bedros XIX Tarmouni (Taza) Catholicos Patriarch of the Armenian Catholics, which had happened on June 25 in Beirut. The delegation, in the name of the Board, left an inscription of condolence on that occasion in the book opened in the Diocese. During the meeting, which took place in warm atmosphere, Most Reverend was acquainted with the Regional Board members and was introduced the activities of the Society.
The keynote subjects were connected with the history, culture, archives, photography, libraries, and the past and present activities of the Catholic institution, its role and cooperation in general.
Regional Executive Board of Hamazkayin Greece