Europe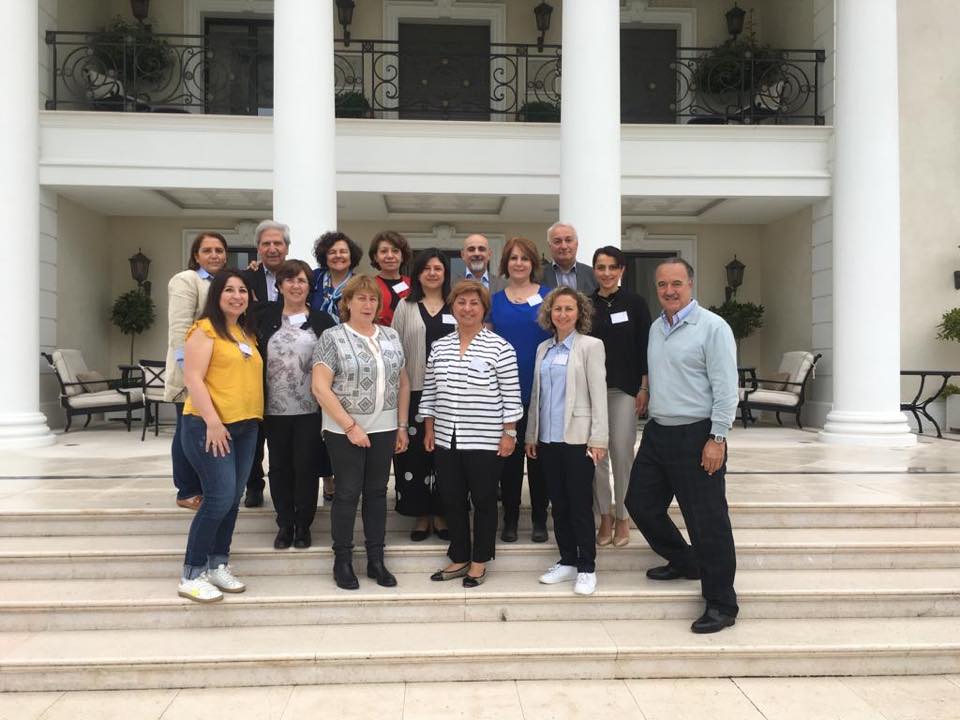 Hamazkayin held a joint meeting of its executive boards in Western Europe on May 18, 2019, in Antibes, in the south of France. The joint session, the first of its kind, was held at the home of Sella Tenjoukian, a member of the Central Executive Board and its representative in Western Europe. In addition to Ms. Tenjoukian, executive board members from Paris, Valence, Marseille, London, and Stockholm attended the meeting, as did Central Executive Board Executive Manager Arin Kalousdian.
Ms. Tenjoukian opened the meeting. She said Hamazkayin chapters operate separately from one another and with limited resources. She invited attendees to plan for cooperation among the members of the large Hamazkayin family in Europe. Presenting the goal of this first meeting, she expressed hope that through cooperation it will be possible to develop, expand, and modernize Hamazkayin's activities across Europe.
Ms. Kalousdian spoke about Hamazkayin's youth-oriented programs (Forum in Armenia, YouthLinks in Europe, and ArtLinks in North America), its child-oriented programs (chidren's games, objects, the Arti font, and so on), it scholarship programs (for the training of Armenian teachers and school administrators), its electronic library, its newly established H-pem online cultural platform, and its social media presence. Attendees asked questions and received answers.
After lunch, the following individuals presented reports:
Chairperson of the newly established Hauts-de-Seine executive board, Hasmig Chahinian, by phone
Valence executive board chairperson Shant Harboyan
Sweden executive board representative Lilit Katcherian
London executive board chairperson Hratch Boghosian
Paris executive board chairperson Ara Krikorian
For the trustees of the Hamazkayin Djemaran in Marseille, ChakéJamgotchian
The rapporteurs provided the meeting with vital numbers about their jurisdictions and spoke about the programs they have implemented or are implementing. They mentioned success stories as well as challenges.
In broad terms, the meeting decided to increase outreach efforts; in gatherings and through announcements, to publicize Hamazkayin's wide-ranging activities to the European public and draw them in. As part of this effort, the meeting decided to develop a master list of human resources in Europe, to cooperate and join forces with sister organizations.
The meeting set the date for the next student gathering, YouthLinks Europe; it will be held in May 2020 in Marseille. Once the details are settled, the program will be publicized via social media. The Marseille chapter executive board eagerly took on responsibility for organizing the gathering.
At the conclusion of the meeting, attendees received CDs of Armenian songs and of lectures in Armenian and other languages; children's books; objects in the Lala and Ara children's line; and flyers. The attendees strongly supported the idea of such meetings.
Ms. Tenjoukian thanked the attendees. She hoped such gatherings would be held often in the future and that Cyprus and Greece would be able to join.
May 20, 2019
Antibes, France