Europe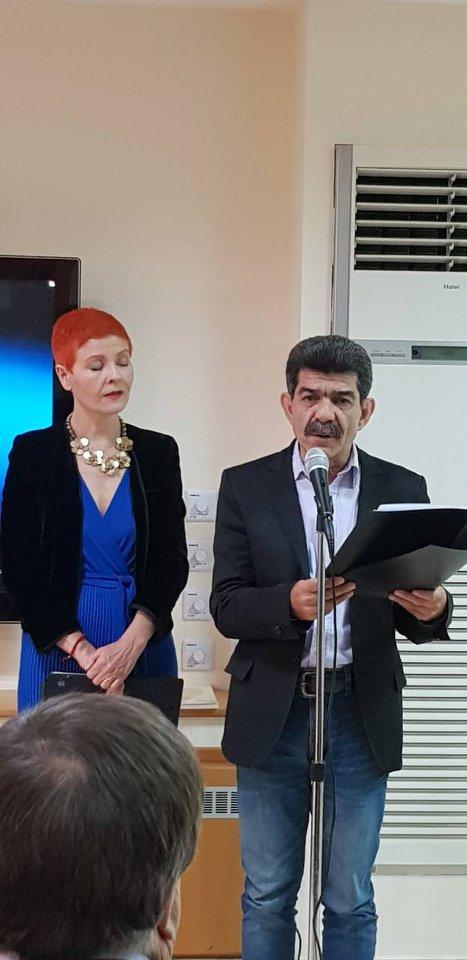 The Hamazkayin Oshakan Chapter organized a cultural event dedicated to the Bulgarian Poet Peyo Yavorov that is known for his respect and love for Armenians.
The event, which took place on April 4, 2018, was organized by the Hamazkayin Executive Board and the Embassy of Bulgaria in Cyprus. Khoren Archbishop of the Catholicosate of the Cyprus Diocese, Ambassador of the Republic of Bulgaria in Cyprus Mr. Hristo Georgiev and his wife, State Representative of the Armenian Community, Vartkes Mahtessian and his wife, the representative of the Presidential Officer for Minorities Fotis Fotiu, Embassy Cultural Attaché, Mina Hristova-Marinova, President of the Union of Bulgarians in Cyprus and of the culture lover members of Hamazkayin were present at the event. In total there were about 50 guests.
Board Chairman Arto Davitian opened the ceremony, presenting the poet's connections with the Armenian people, which was greatly concentrated in his poem Armenians. Then he invited Ambassador Georgiev to the stage, who thoroughly presented the life and work of the poet in English.
Afterwards, Nairi Mouradian read the Armenian translation of the poem Armenians, and then, a 20-minute video was screened about Yavorov. At the end of the video, Cyprian actor Andréas Melekis and actress Monica Melekis performed a bunch of Yavorov's other poems.
The event ended with speeches of gratitude, and continued around the tables with Armenian dishes and wine. It was a great chance for the foreign guests to communicate with the Hamazkayin members and exchange ideas on the day's program and future plans.